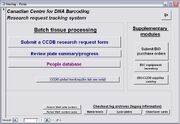 Find a computer that has the Access System on it. If you can't find a computer with it in any lab in the science complex, go to BIO and use the computer in the room with the incubator and lysis solutions.
Under "Short cut to dataserve" on the desk top, go to "Databases", then "Collection_data", then "BIO_collection". If you want, you can click and drag "CCDB_lab.mdb" to your desktop.
On the first page that comes up, under the heading Batch Tissue Processing select Submit a CCDB research request form.
Enter the BOLD project code (eg. HIC).
External Collaborator: type in their name if you know what it is.
Location of Samples: type in the exact location of the samples (ie the building, freezer number, and shelf).
Type of organism: Choose one of invertebrate, vertebrate, fungus, plant, or protist).
Taxonomic descriptor: (chose the closest descriptor – for example if you have an unknown insect, chose "Insects" but if you have a butterfly chose "Lep" for Lepidopteran)
Geographic region: the region that the samples were collected from.
Material submitted: Choose one of Tissue sample, DNA extract, PCR product, or Sequencing product.
Tissue type: select the best description from the list.
Sample age: Choose one of fresh, 1-5 years, 6-10 years, 10-20 years, old (>20 years), ancient (>100 years).
Type of analysis requested: check off Standard COI barcoding.
Stages required: select all the stages that are going to be done by BIO as well as the stages that will be done in the Science Complex using the reagents from BIO. For example, if you check off "PCR reactions" you can take pre-made plates from the freezer in BIO back to the Science Complex to run your reaction.
Comments: In this section type in what will be done by BIO, and what will be done in the Science Complex.
Submitted by: Type in your name.
Pricing: U of G internal.
Bill to: Bob Hanner.
Under the heading Associated plates to process, under Plate number type in the box number (eg. BOX-3452, or CCDB-00519), under Source type select the type of container the samples are stored in.
Save the request.
Print out two copies of the form. Keep one in your records, and bring the other over to the lab manager in BIO.

Return to Barcoding in the Hanner Lab Wiki.
Next you need to do Tissue Lysis.
NOTE: If you are unable to find or log onto Dataserv see Finding and Logging into Dataserv. If you need to edit a previous request form see Reviewing and Editing Old Request Forms. If you need to Hit pick plates, see Getting Plates Hit Picked and Dataserv.

Updated June 25 2009