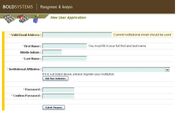 If you do not have an account on BOLD, on the home page of BOLD (www.boldsystems.org) under Management and Analysis there is a box for entering a user name and password, click on *Request a new user account.
Beside Valid E-mail Address type in your university e-mail address (eg. yourname@uoguelph.ca).
Fill in your first name, middle initial (optional), and last name. Institutional affiliation is University of Guelph.
Type in a password, and then confirm it by re-typing it. Press Submit Request.
Your username will be e-mailed to you.

When you have a BOLD account, Create a project on BOLD.

Return to Barcoding in the Hanner Lab Wiki.
Updated May 2 2009